Proud Member


About Trike Zone
Trike Zone was established in 2002 by JC Finlan, as a Lehman Trikes Franchise, mainly delivering turn key trikes to clients, and relying on the Lehman Factory plant in Westlock for the conversion services.
In 2005, the Richards Family, seeing the industry demographics changing as the Baby Boomers riding Motorcycles were converting over to a three wheeled option, decided to take the business to the next level and help serve this burgeoning market. Trike Zone of today was created, and although we weren't sure where this business was going to take us, it has been an exciting ride and continues to thrill us on a daily basis. Today Trike Zone sells an extensive line of Trike Conversion options; Lehman Trikes, Champion Trikes, and Rewaco.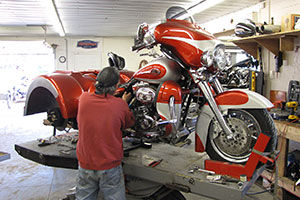 We have also added many other facets to the business that we believed were under served by the industry including a HUGE accessory selection, trailers and Hitch installs, Custom LED lighting, full State of the Art Service for Bikes and Trikes and much more.
Our Location, although not in the "Big City" has become a destination for riders and groups alike, and the low key atmosphere is enjoyed by all who visit. Why not include Trike Zone on your next ride- You won't be disappointed!
Key Personel
Steve Richards- General Sales Manager