Proud Member

Trike Zone FAQ's
How much does a trike cost?
Trikes range in cost from the entry level "Naked Trikes" at about $9000.00 to the Full on Touring Models with Complete Body Kits which can be up to $16,000.00 for a base conversion.
How long does it take to build a trike?
It can take anywhere from 10 Hours to 40+ hours to convert and option out a Trike, however depending on our clients needs, wants and desires, each case may be different. If there is a time line concerned, every effort is made to meet or exceed that deadline!
Do you build all the Trikes at Trike Zone?
Some Trikes do come Turn Key, such as the Rewaco or some of the Victory Trikes, which are factory Built. The rest are all converted and serviced at our shop.
Can I bring my motorcycle to Trike Zone for conversion?
YES! We can provide a turn key unit, or you can bring us your bike to convert- It makes no difference in the conversion cost.
What type of rear ends do you use?
They are an "Automotive" open differential design, Belt drive motorcycles stay belt driven and shaft drive motorcycles stay shaft driven. Posi-Trac rear ends are available for custom or race applications but are not recommended for every day use.
Where are the parts made?
Some are manufactured by the respective Trike Kit Companies, or of course outsourced.
What is the Lehman "No Lean" Suspension?
The genuine Lehman "No Lean" concept started with John Lehman's first trike in 1985. The idea was to ensure that his wife, Linda, would ride safely and with confidence while keeping up with fellow riders.
"No Lean" describes the idea that the center of gravity of the rider and machine should not shift or "roll" outwardly while cornering. This fundamental concept has been fine-tuned over 25 years to make Lehman Trikes the most stable on the road today.
How does the final drive work on a Trike?
Most Trikes utilize the same final drive type as the original motorcycle. A belt driven motorcycle is a belt-drive trike, and a shaft-drive motorcycle is a shaft-drive trike. To keep things simple and serviceable, we also use the original motorcycle components wherever possible. In terms of U-joints, bearings, seals and differential, we use commonly available automotive parts. The end goal is to provide a reliable drivetrain that can be easily serviced for years to come resulting in minimal horsepower loss from the transmission to the wheels. The simpler, the better!
How does a Trike ride and handle?
A trike does not corner by leaning like a motorcycle. The trike is steered into the corners. There are two schools of thought when it comes to the Rear Ends on Trikes: No Lean and Independent Suspension.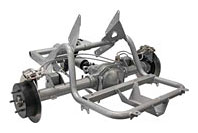 NO LEAN SUSPENSION:

The no-lean trike for example is designed to resist body roll and handles more like a small sports car. In fact, an experienced rider on a no lean Trike will out corner most touring and cruiser motorcycles!
INDEPENDENT SUSPENSION:
The Independent Suspension Trike will result in a smoother "Cushier" ride at lower speeds and over rougher terrain, however because of space requirements, will result in usually a wider and longer platform, and in some cases, reduced agility and cornering safety.
Both platforms will give you the same Trike Benefits: Stability, Luggage Capacity, Better Braking, Longer Riding season, better visibility, Maneuverability and of course; More peace of mind…
Everything the rider sees, touches and controls is the same as the motorcycle, so the overall experience remains similar to that of riding a two-wheeler…with benefits
For more information, search on the web for " no lean suspension" or "independent suspension" and "Trike suspension"
Remember, everyone has an opinion, the only way to know for yourself is a hands on Demo Ride, which we do all the time.
Does my trike need a raked triple tree?
Usually a Trike does not require a raked triple tree. This does not improve the performance or stability of the trike. However, a raked triple tree may yield lighter and easier steering. This can be especially desirable on the larger touring machines. The answer to this question depends largely upon rider preference, the particular motorcycle and trike, and the individual's riding style.
How does my warranty work?
The warranty covers defects in material and workmanship on Trike parts. The host motorcycle is not covered by our standard warranty. Extended warranties for the Bike end of things are available as well.

What are the benefits of a Trike?
While each Trike owner probably has their own reasons for choosing a Trike over a Bike, there are definitely some benefits that everyone enjoys:
more visible to other motorists
no need to hold bike up
superior braking capabilities
larger luggage capacity
can be more maneuverable
longer riding season
less constrictive
better resale value
size of the bike doesn't matter
you can get your license on a trike
trikes are Über cool!