Happy Thanksgiving
Trike Zone will be CLOSED
October 5th - 10th.
Sorry for any
inconvenience!
Have a
Safe & Happy
Thanksgiving!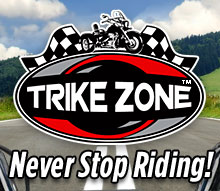 Proud Member

Harley Davidson Accessories For Sale
Harley Davidson accessories for your bike or trike, we carry them all. These are just a sampling of a few. We stock a huge selection and have relationships with all the distributors. OEM or aftermarket, we install them all. Call us with your specific needs.