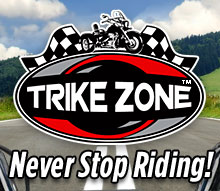 Ever want a cargo/tent trailer just to try out?
See Trike Zone Trailer Rentals for more info!

Proud Member

Harley Davidson Accessories For Sale
Harley Davidson accessories for your bike or trike, we carry them all. These are just a sampling of a few. We stock a huge selection and have relationships with all the distributors. OEM or aftermarket, we install them all. Call us with your specific needs.