Happy Thanksgiving
Trike Zone will be CLOSED
October 5th - 10th.
Sorry for any
inconvenience!
Have a
Safe & Happy
Thanksgiving!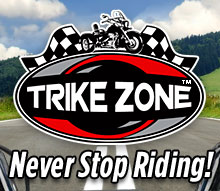 Proud Member

Yamaha Trikes For Sale
We have fitment for your Yamaha Royal Star Venture, as well as the king of cruisers - the Road Star.
Convert yours or choose from our stock, we build to suit. We can also deliver turn key brand new trikes of your choosing.